The Middleburg Film Festival offers four days of fantastic films in a spectacular setting, only 30 minutes from Dulles International Airport and just one hour from Washington, D.C. A carefully curated selection of narrative and documentary films screen in intimate theatre environments, followed by fascinating conversations with world-renowned filmmakers, actors, and other special guests. The films include festival favorites, world and regional premieres, first-class foreign films, and Oscar contenders.
MFF 2022 featured a record number of 45 films including: WHITE NOISE, THE WHALE, GLASS ONION: A KNIVES OUT MYSTERY, SOMEWHERE IN QUEENS, THE WOMAN KING, EVERYTHING, EVERYWHERE ALL AT ONCE, TAR, SHE SAID, THE BANSHEES OF INISHERIN, WOMEN TALKING, EMPIRE OF LIGHT, DEVOTION, ALL QUIET ON THE WESTERN FRONT, TILL, THE SON, ARMAGEDDON TIME, NANNY, LIVING, THE WONDER, CLOSE, MY POLICEMAN, CAUSEWAY, GOOD NIGHT OPPY, DESCENDANT, THE RETURN OF TANYA TUCKER, ALL THAT BREATHES, LOUIS ARMSTRONG: BLACK AND BLUES, and TURN EVERY PAGE.
Honorees and special guests included director GINA PRINCE-BYTHEWOOD, writer-director NOAH BAUMBACH, director EDWARD BERGER, writer-director FLORIAN ZELLER, screenwriter SAMUEL D. HUNTER, actors BRENDAN FRASER, STEPHANIE HSU, MICHEAL WARD, DOLLY DE LEON, and ANNA DIOP, film composers MICHAEL ABELS, KRIS BOWERS, MARK ISHAM, TERENCE BLANCHARD and CHARLES FOX, film editors BOB DUCSAY and TERILYN SHROPSHIRE.
Other special events include conversations with filmmakers and actors in intimate settings, concerts featuring the work of renowned composers and songwriters, wine tastings at local vineyards and breweries, farm-to-table dinners, and great parties!
Festival attendees can also experience the natural beauty, food, wine, and warm hospitality of Middleburg during morning hikes and horseback rides through the glorious Piedmont countryside… wine tastings at local vineyards... strolling and shopping along historic Main Street … and enjoying delicious cuisine and beverages at local restaurants.
Word is definitely spreading that Middleburg is the place to be during Oscar season. –RogerEbert.com
"…the four-day festival has become one of the most interesting (and influential) on the road winding toward the Academy Awards." –Town and Country Magazine
Who We Are
Meet the Board of Directors, Board of Advisors, and Strategic Partners - click here.
Welcome
From Sheila Johnson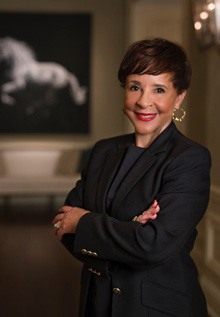 We couldn't be more excited about our 10th anniversary!
I want to personally invite you to join me Oct. 13 - 16, 2022, to experience fantastic films in a truly spectacular setting. The Middleburg Film Festival celebrates two of my favorite things through bringing the best in independent film right here to the town I love.
As an avid filmgoer and film producer, I've seen over and over the power of films. Movies have a rare and magical ability to inspire, educate, engage, and entertain. They lift us up out of our everyday lives, help us see others' points of view, and build new and much-needed bridges of empathy and understanding.
Over the course of 4 days, the Middleburg Film Festival is delighted to present a carefully curated slate of narrative and documentary feature films, selected for their exceptional craft, vision, inclusiveness, and subject matter — as well as celebrate and recognize outstanding individuals in the film community.
And where better to host a film festival than Middleburg, Virginia, one of the most beautiful places on earth?
Middleburg has been my home for more than 25 years. I'm honored to give people from all over the world one more reason to visit this very special region. And I'm delighted that the Middleburg community will have the opportunity to experience some truly extraordinary films together.
So, I hope you'll mark your calendars and join me October 13 - 16, 2022 for our 10th Anniversary and another truly memorable Middleburg Film Festival.
Warmly,
Sheila C. Johnson
MFF Founder and Board Chair