About Middleburg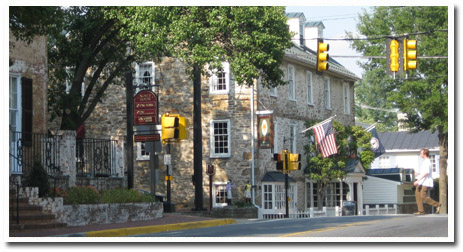 Upon discovering the village of Middleburg and the stunning surrounding landscape, visitors often draw comparisons to the beautiful English countryside. Home to more than 160 historic buildings listed on the National Register of Historic Places, Middleburg is known for its natural beauty, history and charm.
Low stone walls wind through picturesque horse farms and pristine fields that stretch for miles on end. Cattle graze in rolling pastures against a backdrop of the nearby Blue Ridge and Bull Run mountains. Vineyards abound, with the perfect climate for grapes yielding impressive wines… and making it one of the top ten wine destinations in the world.
Middleburg was established in 1787, with land purchased from George Washington's cousin. Over the years, Middleburg has maintained its small town charm while becoming a premier destination for fox hunting and steeple chasing, and attracting world leaders, avid equestrians, and wine lovers. The town's historic inns have hosted everyone from Civil War soldiers to President John F. Kennedy and actress Elizabeth Taylor.
Places to Stay
There are a variety of options for accommodations in the town of Middleburg -- including the luxury Salamander Resort & Spa (salamanderresort.com), the historic Red Fox Inn (Redfox.com) on Main Street, and the romantic Goodstone Inn (Goodstone.com) set on a 265-acre estate.
Home Suites by Hilton Chantilly Dulles Airport, located approximately 25 minutes from Middleburg has a special rate during the festival.
There are also many private homes available to rent on airBnb.com and Vrbo.com.
For more options throughout the surrounding area, visit: https://www.visitloudoun.org/accommodations/
Dining
There are choices for every palate -- from local, organic Virginia Piedmont cuisine to French gourmet to down home American fare.
For more information, visit: http://visitmiddleburgva.com/eat-drink/

Wineries
It was Thomas Jefferson who first introduced grapes to his home state of Virginia. Today, this region is one of the Top Ten Wine Destinations in the World. There are over 22 wineries located within 30 minutes of the town of Middleburg. https://www.visitloudoun.org/things-to-do/wine-country/
The festival's official partners are Boxwood Estate Winery, recently named as one of the "Nine Must-See Wineries of the World" (Celebrated Living Magazine) http://boxwoodwinery.com/ and the stunning Greenhill Winery and Vineyards (http://GreenhillVineyards.com). Festival events are held at both of these wineries including "Wine and Conversation" with leading filmmakers and a Saturday Night Farm-to-Table Dinner.
Things to Do
https://www.visitloudoun.org/things-to-do/
To learn more about Middleburg:
Town of Middleburg: middleburgva.gov & visitmiddleburgva.com
Middleburg Life middleburglife.com
Middleburg Eccentric mbecc.com